Welcome to Siding Industries of NE Florida.
Siding Industries goes back over 40 years with a very successful track record. You can see our work all over the north east Florida region, including places like Jacksonville, Daytona Beach, Palm Coast, Palatka, and the historic city of St. Augustine. We strive for perfection.
Our siding, window, and door projects are trusted in both new construction, and remodeling projects of all sizes. We also handle both residential and commercial projects.
Our promise as a licensed construction contractor is to build community value into every project while delivering professional expertise, exceptional customer service, and quality results.
Jacksonville Siding Specialists
WE ARE PASSIONATE
We have a proven record of accomplishment and are a reputable, local company in Jacksonville, Florida. We ensure that all projects are done with utmost professionalism using quality materials while offering clients the support and accessibility.
HONEST AND DEPENDABLE
For us, honesty is the only policy and we strive to complete all projects with integrity, not just with our clients, but also our suppliers and contractors. With thousands of successful projects under our belt, we are one of the most trusted siding installers in Florida.
WE ARE ALWAYS IMPROVING
We commit ourselves to complete all projects within the timeline set with our clients. We use the best of technology and tools to ensure that all jobs are done quickly, while also giving attention to detail and ensuring everything is done correctly.
About Siding Industries
Siding Industries is a Siding Business operating in the St. Augustine, Daytona and Jacksonville areas of Northern Florida. John Kelleher is the Owner/President of the Company, a Licensed Residential Contractor (CRC1327934) in the state of Florida. John has been previously licensed in Northern Nevada, and has over 30 years Quality Workmanship in Exterior Remodeling. John knows about Siding, Windows, and Door installation.
Siding Industries of Northern Florida, Inc. specializes in Exterior Remodeling (Siding, Soffit & Fascia, Windows & Door replacement, Decks & Hurricane protection). Our team are dedicated specialists that work together through all phases of production.
With our professional expertise, we can assist you in completing your Remodeling Project. John's passion is to make your home look new, maintenance free and have you stress free during the process!
"Customer Satisfaction is our reputation."
It's all about you, in the end. Is the customer satisfied? It's not just an empty promise on our website, it's our entire reputation. A happy customer tells their friends, and their friends remember us when it's time for Siding, Doors, or Windows.
We utilize the services of Guild Quality for customer feedback. You can see actual customer submitted comments and reviews on both the Guild Quality website and our own.
Our Certification
At Siding Industries, we believe in transparency. Everything you need or want to know about us can be found right here on our website.  Construction contractors are required by the state of Florida to hold licenses, and to display their license numbers on any sort of advertising. We have a gallery to show ours, along with certification from the suppliers, and our insurance certificates. Before you hire anyone to install your Siding, Windows, or Doors, take a moment to review their information.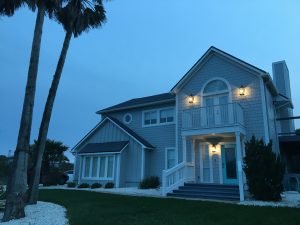 Siding Installations in Jacksonville and St. Augustine