Doors by Siding Industries
Whether you need a simple interior door replaced, or you're interested in new exterior doors, we're here with all the information you need. If you choose Glass, Wood, Steel, or even Fiberglass front entry doors, trust Siding Industries to do the job right. With our 30 years of experience, it's just one less thing you'll have to worry about.
We handle all types of installation, replacement, and maintenance – interior, exterior, sliding, security, storm, and more.
Steel
Our Steel doors are made to exacting standards. They are made of an energy-efficient foam core insulation, with weather stripping done right by the manufacturer.  Their tough, steel construction will withstand years of extreme weather conditions with little to no maintenance. Steel doors are highly resistant to shrinking, swelling and warping.
Fiberglass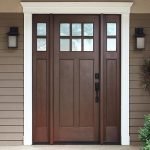 Fiberglass doors offer the same energy-saving and easy installation qualities as steel. Their high-quality construction makes them resistant to all sorts of weather as well as scratches and dents. These are the preferred choice in extreme climates and high traffic entrances, such as your beach house.
Wood
The Wood doors offer the traditional look of the American Home. So inviting and warm to all your family and friends. A solid wood door has a substantial weight, that adds a feeling of security and quality to your home. Wooden front entries can be painted or stained for a natural, warm appearance.
Aluminum
Another option to consider are Aluminum doors. These are usually the least expensive. Their all-aluminum construction typically won't rust and is easily maintained. Aluminum is light weight, and much more suited to side or rear entry doors.
Vinyl
There are also Vinyl doors, very low-maintenance and energy-efficient. The vinyl frames are easy-to-maintain and look new for years. Most vinyl patio doors offer insulated glass and come with factory-installed weather stripping for maximum energy efficiency.
Coated
Wood-clad doors are wooden doors and frames that come with with a vinyl, fiberglass or aluminum coating on the exterior surface of the door. The coating serves as an extra barrier to protect the wood from the elements and still allows you to have the look of a real wood door.
Jacksonville Door Installation
If you are in the Jacksonville, St. Augustine, Daytona, Palatka, or the general north east Florida area, please contact us about door installation for your next home renovation project. For more information, don't hesitate to contact Siding Industries at 904-460-9367 or through our Contact Page to get you started. You can request a free estimate for doors, siding, or windows via our website.
Becoming a Certified Door Installer
How-To: Measure Rough Opening
How-To: Maintain Sealed Joints